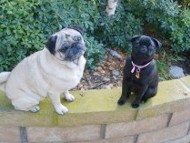 "First, it's important to know that my husband and I do not have children. Our pugs are truly our babies and they bring great joy to our lives. Our dog's care is very important to us so when we moved to this area a couple of years ago, we interviewed three different Pet Sitting companies. A-WAGS, Alan Wagner, almost immediately stood out among the rest. He was more than just a caring Dog Sitter; he was very knowledgeable about dog training. He even shared some of his secrets on how to correct my puppy's unwanted behaviors. It was no surprise we chose A-WAGS and Alan always been available to watch our dogs even on late notice. Our dogs are a good barometer when it comes to judging how things went when we were away. Our dogs are calm and content after spending up to a week with A-WAGS (it's like we never left). Our older dog needs daily medications and we always feel secure that Alan will get the correct dosages at the right times. It's also peace of mind knowing someone is keeping an eye on our house. It's even special knowing Alan nicknamed our pugs. Tater Tot (TT) and Abby (Abbs) are going to enjoy many more years getting loved and walked by A-WAGS Pet Services!"
— Veronica Yancey
---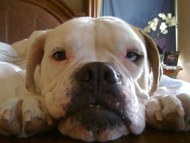 "I have worked with other dog trainers in the past and I am happy to say that Alan has by far had the most positive impact on my dog. He really does put the effort into my dogs' training, it is clear he really cares about my dog. It goes both ways too because Daisy cannot wait to see her buddy every week. It is the highlight of her day to walk with Alan and I would absolutely recommend him, he is a great trainer and person."
— Victoria Newman
---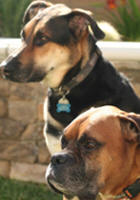 "Alan Wagner has a magnificent way with animals. He has helped us take care of our dogs all of their lives. Apollo is a shepherd mix who has been a loving member of our family for the past nine years. Rocky, a boxer, was with us for eight years until he passed away last year. Apollo adores Alan and Rocky did as well when he was alive. Alan has helped us in bathing and walking our dogs and has even accompanied us on trips to the veterinarian. Alan is the first person we call whenever something comes up with our boys as we trust his opinion when it comes to taking care of such important members of our family. We would recommend A-WAGS to anyone that needs assistance in taking care of their animals from a trusted, devoted animal lover."
— Jason and Rene Doud
---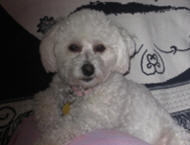 "You can trust A-WAGS to take great care of that special member of your family.
When we heard Alan had created A-WAGS we were so happy. Having the services of A-WAGS has given us the freedom to do things together. We are confident Mindy will be safe in her own home being taken care of by people whom we trust without question. This is a very important consideration when you have someone coming into your home you may not know.
If you are thinking about using the services of in-home pet care we suggest you try A-WAGS.
We use A-WAGS for our vacation plans and to come and walk Mindy when we are gone for a longer period of time during the day. This convenience puts our mind at ease.
We have perfect confidence that A-WAGS will more than meet your needs and that of your pets.
We have known Alan for about 10 years and there is no question about his integrity."

— John, Jean and Mindy Stolarski
---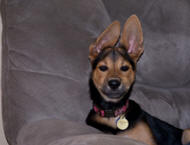 Jessie was a typical puppy -- full of energy and eating everything in the house. A-WAGS trainer -- Alan Wagner -- taught each of our family members how to establish control and gain her respect. His techniques have transformed Jessie into a joy around the house. Equally impressive is the love that Alan has for animals ... it shows in his personal attention that he pays to his clients.

— The Nuaimi's
---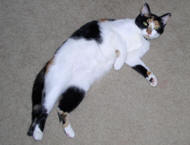 We have known Alan for 15 years and he has always had a passion for animals.
He has cared for my cat Toby on many occasions. We could always depend on Alan to be there in a moments notice and never had to worry whether Toby was getting the attention she needed. We have never met anyone who loves animals as much as Alan and they love him right back.

— Robin and Keith Mitchell
---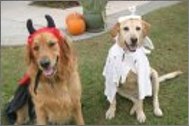 We were very pleased with A-WAGS professional service while we were gone on a trip. A-WAGS was available immediately or in a timely manner and were sensitive to our needs as well as our dogs. We loved the peace of mind that our furry family members were well taken care of.

— Pam & Jim Michalowski
---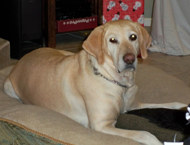 We have known Alan for 11 years as a neighbor and friend. When he decided to start A-Wags Pet Services, we were very relieved. We have 5 cats, 2 dogs, fish and a Chinese Water Dragon, so finding ANYONE willing to take on that endeavor is almost impossible! We enlisted Alan's pet services on our recent family vacation, and could not be more pleased! He loves our animals and took such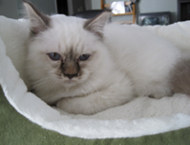 GREAT care of them while we were gone. We did not worry about our home or our pets while we we away. The relief of knowing that your pets are being cared for like you would care for them...maybe even better...is a huge relief. We could actually relax on vacation and enjoy our time together, knowing that Alan was on the job! I would highly recommend A-Wags Pet Services to anyone who wants the peace of mind that Alan provides.

— The Peters Family (pets too)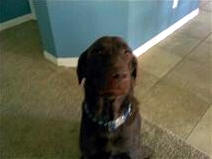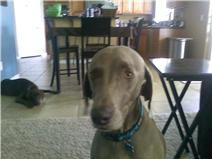 I could not have asked for a better customer experience with Alan Wagner and A-WAGS. I was going to be out of town for a few days with wedding activities and needed a trusted contact to take care of my Weimaraner and Chocolate Lab. A-WAGS was the perfect solution. Alan met my dogs beforehand, visited and fed them during the requested timeslots, and confirmed their well-being via text message. His service is exceptional and I highly recommend him to pet owners going on vacation or just being away for long periods of time.

— Marc Griffis